SCHEDULE A DEMO
Predictive Growth Solutions - For Dentists
Can you really trust we brought you a new patient?
Our proprietary technology is the key.
Our tracking is accurate and impossible to fake.
How our competitors work
Do you really even know how many new patients your marketing company actually gets you each month?
Frankly, most marketing companies focus on data that makes them look good rather than tell you the truth about your new patient results. Why?
1. Lack of technology
Most Dental marketing companies lack the technology to know if they brought a particular patient through your door or even give you data that is updated daily and easy to understand.
2. Lack of results
Most dental marketing companies lack the expertise and experience to generate results worth reporting. There's a reason why Ascent is the only company that is 100% performance based.
VS
How Ascent Works
Verified tracking along every step
‍From potential patient to sitting in your chair
1. We track potential patients
Our advanced technology allows us to track all the potential patients who come into contact with the pages we're tracking. Both through their search and information gathering, then all the way through their phone call to your practice.
2. Your practice enters new patient data
Once the patient we've been tracking comes in for the first time, you enter their new patient data into your Practice Management Software.
3. We verify through your practice management software
Ascent integrates with your Practice Management Software. Once you enter the name of the patient we've been tracking, we match that person and verify them as a new patient we helped bring in.

It's impossible for us to fake this process. The names simply won't appear in your list of verified patients unless we have been tracking them through their search process. Your list is updated automatically every single day for you to see on your phone in our mobile app.
SEE IF YOU QUALIFY
Our reporting app is a game-changer.
Our reporting is so accurate, immediately accessible, and detailed that you will want to see it at your convenience as often as you want it with all your key metrics. And it's updated daily! This gives you a level of sophistication and understanding of your business that transcends even the most sophisticated DSO's.
Home Screen – Verify your new patients
Quickly and easily know exactly how many patients Ascent has brought you. Sorted by month to date, week to date or you can view any past month.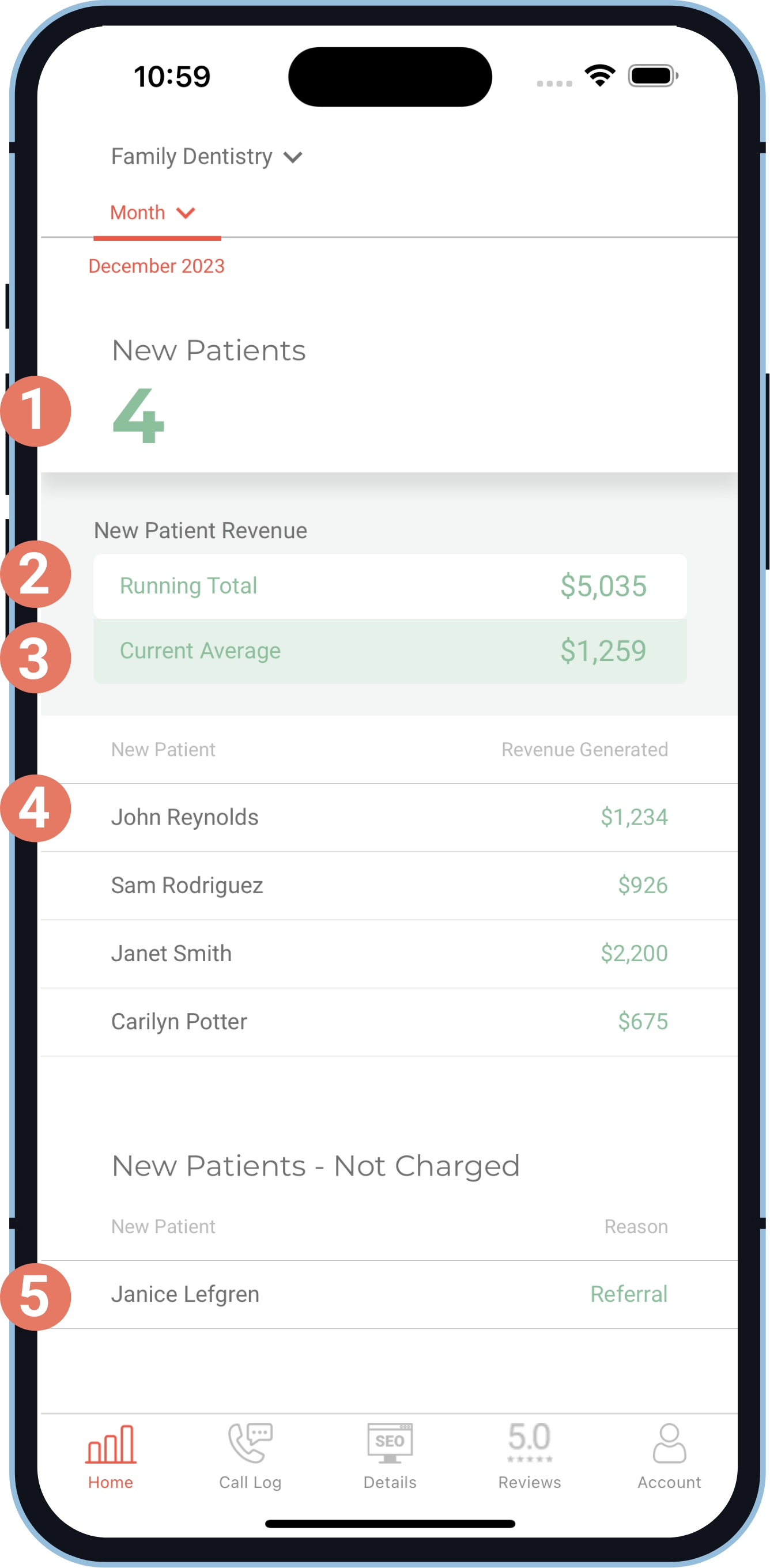 Total verified new patents from Ascent's efforts
Your current annual per-patient value from your practice data
Your averaged annual revenue from new patients
Your verified new patient by name
The marketing source that tracked them before coming in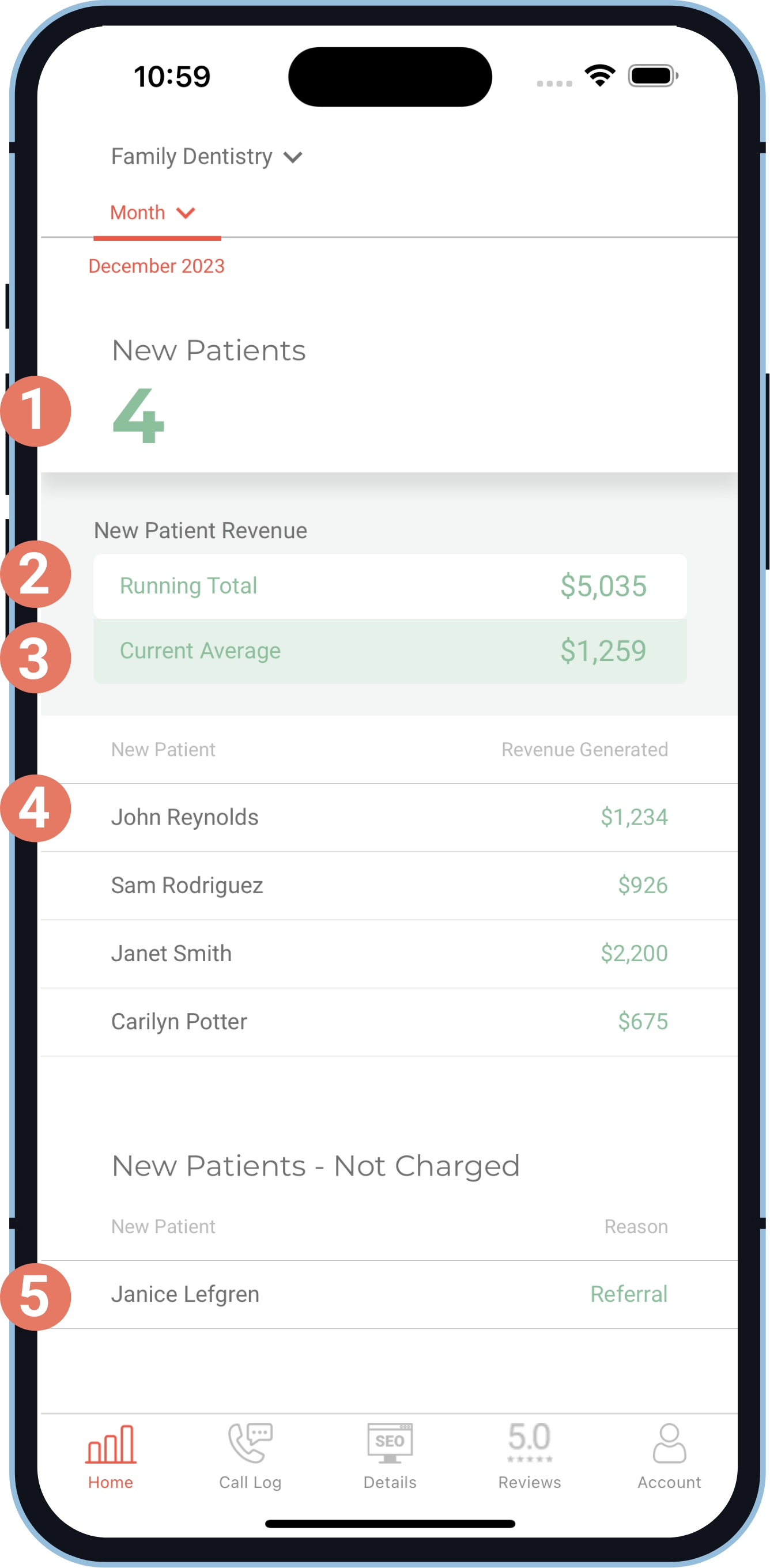 Call Log – Pinpoint areas for improvement 
If you'd like to improve your phone conversion rates, it helps to know areas where you're losing business by not converting calls.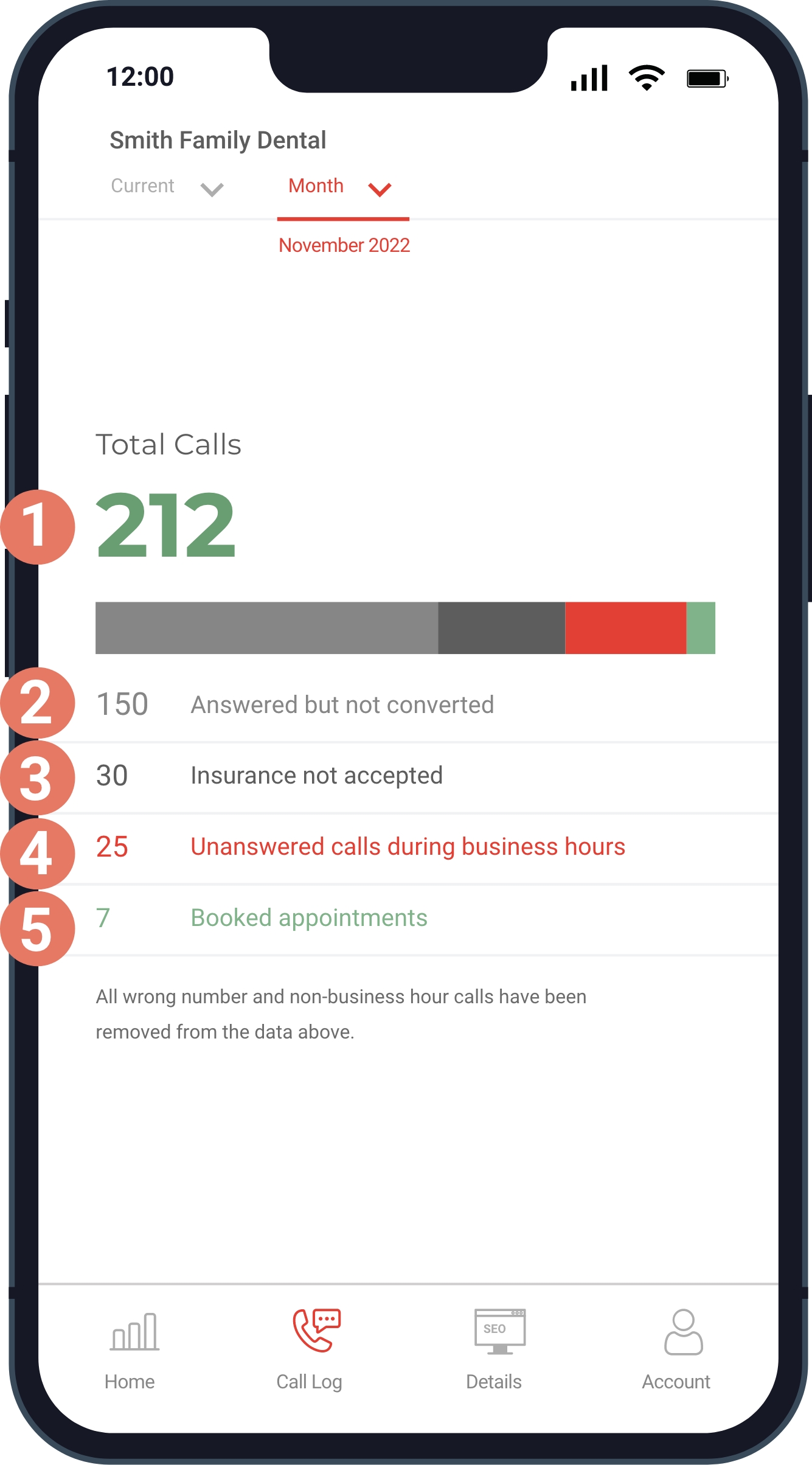 Total calls generated from Ascent's efforts
Answered but not converted
Unanswered calls during business hours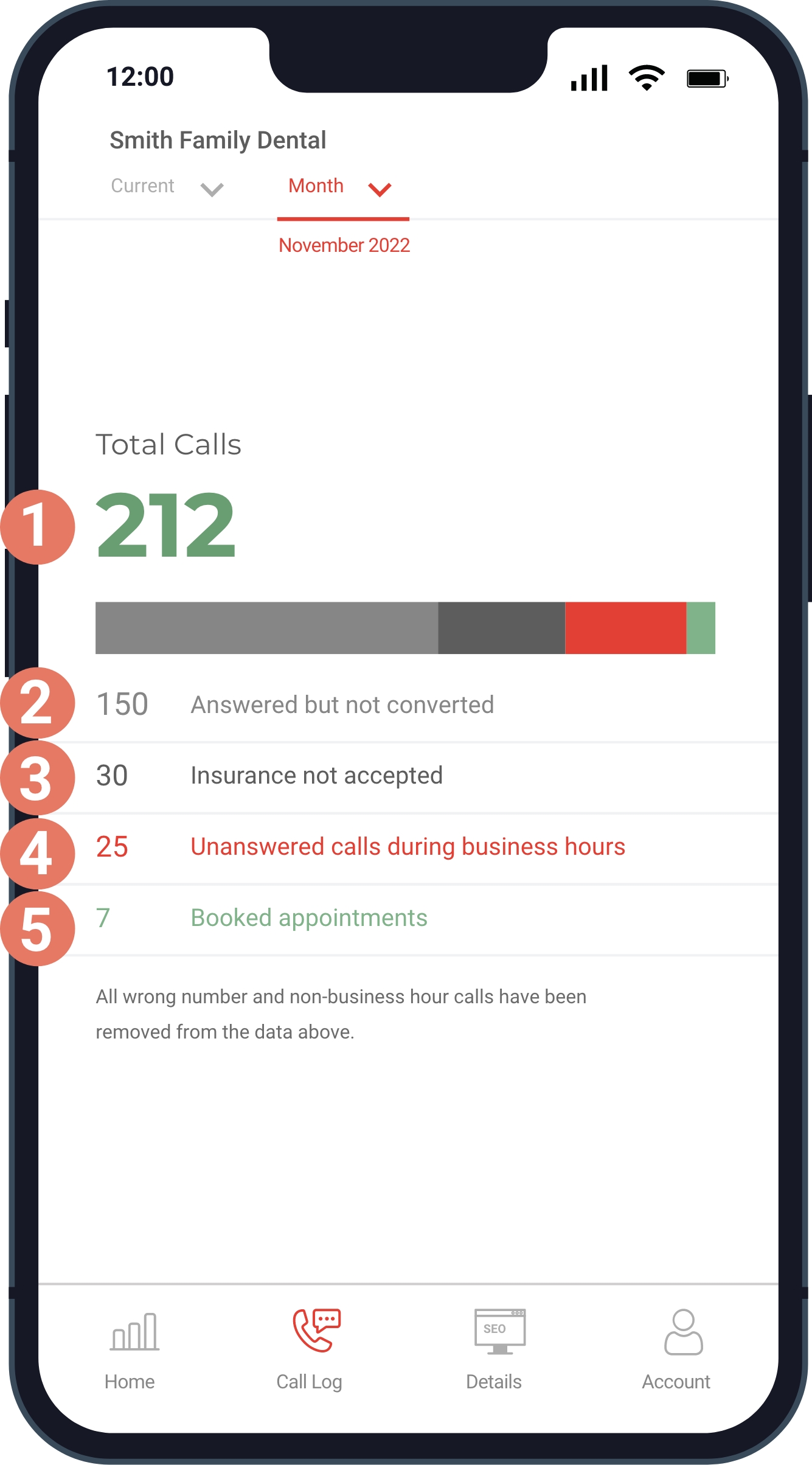 Online Visibility - See your visibility increase
We will focus immediately on helping you to be found in the keyword searches most likely to convert new patents. Our goal is to turn your search visibility into a new patient generating machine where you can count on a consistent number of new patients each month.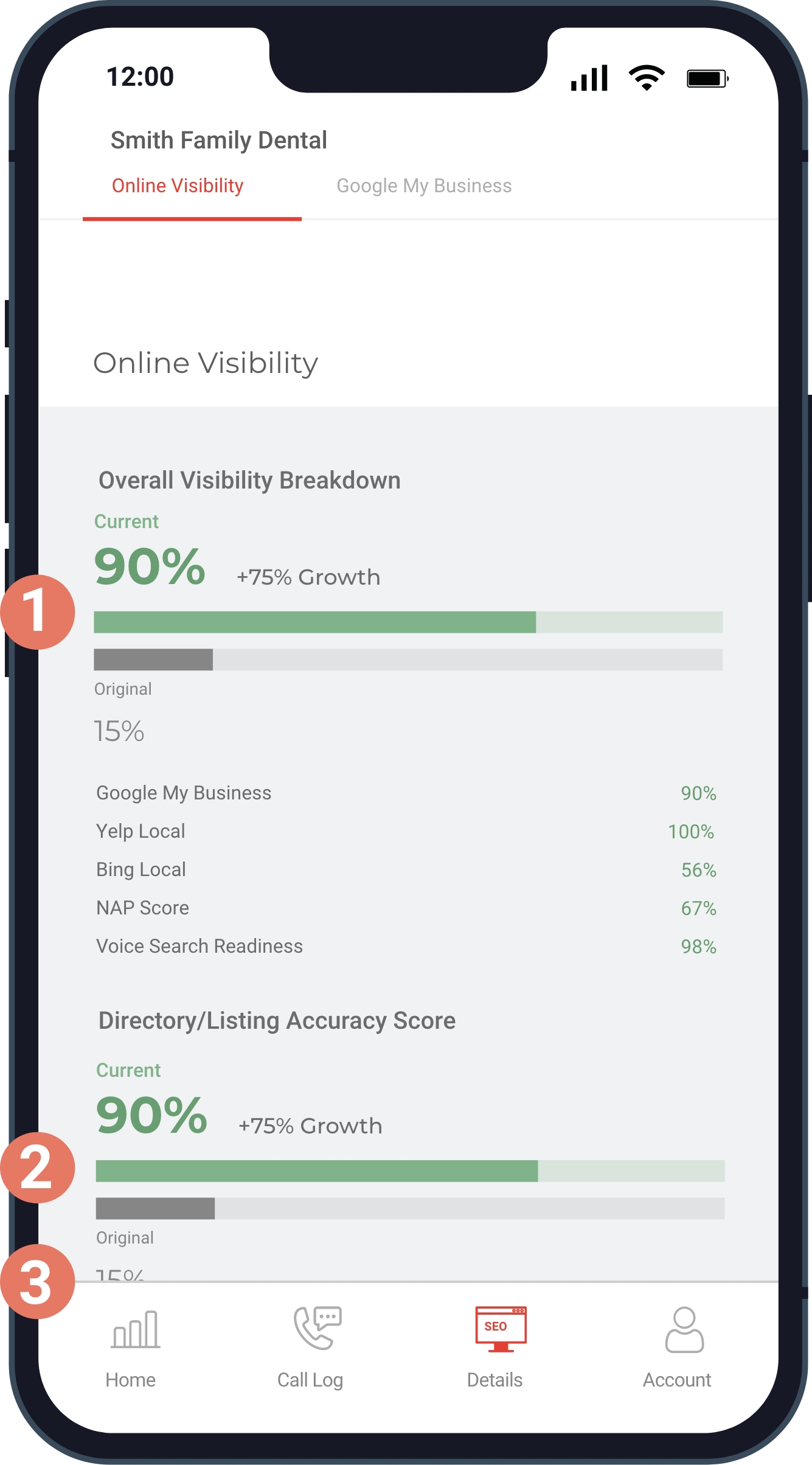 Overall visibility across all searches
Directory and business listing accuracy
Scroll down for a breakdown of the top 40 searches
you were seen in sorted by most popular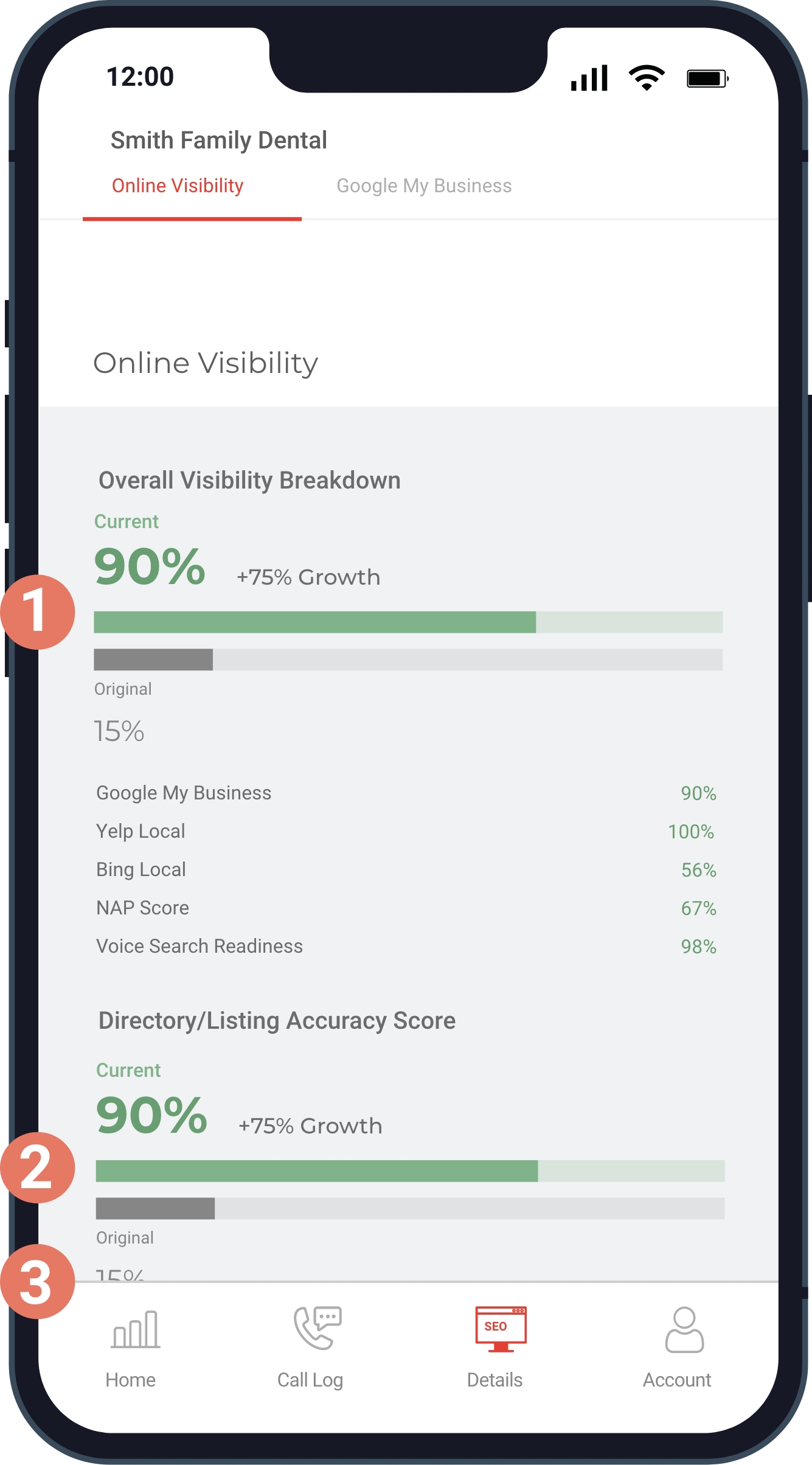 Google My Business – Local search
Local search is the most common place people search for a dentist. Your Google My Business page is the key component of local search and our priority is to improve the visibility of your Google My Business page.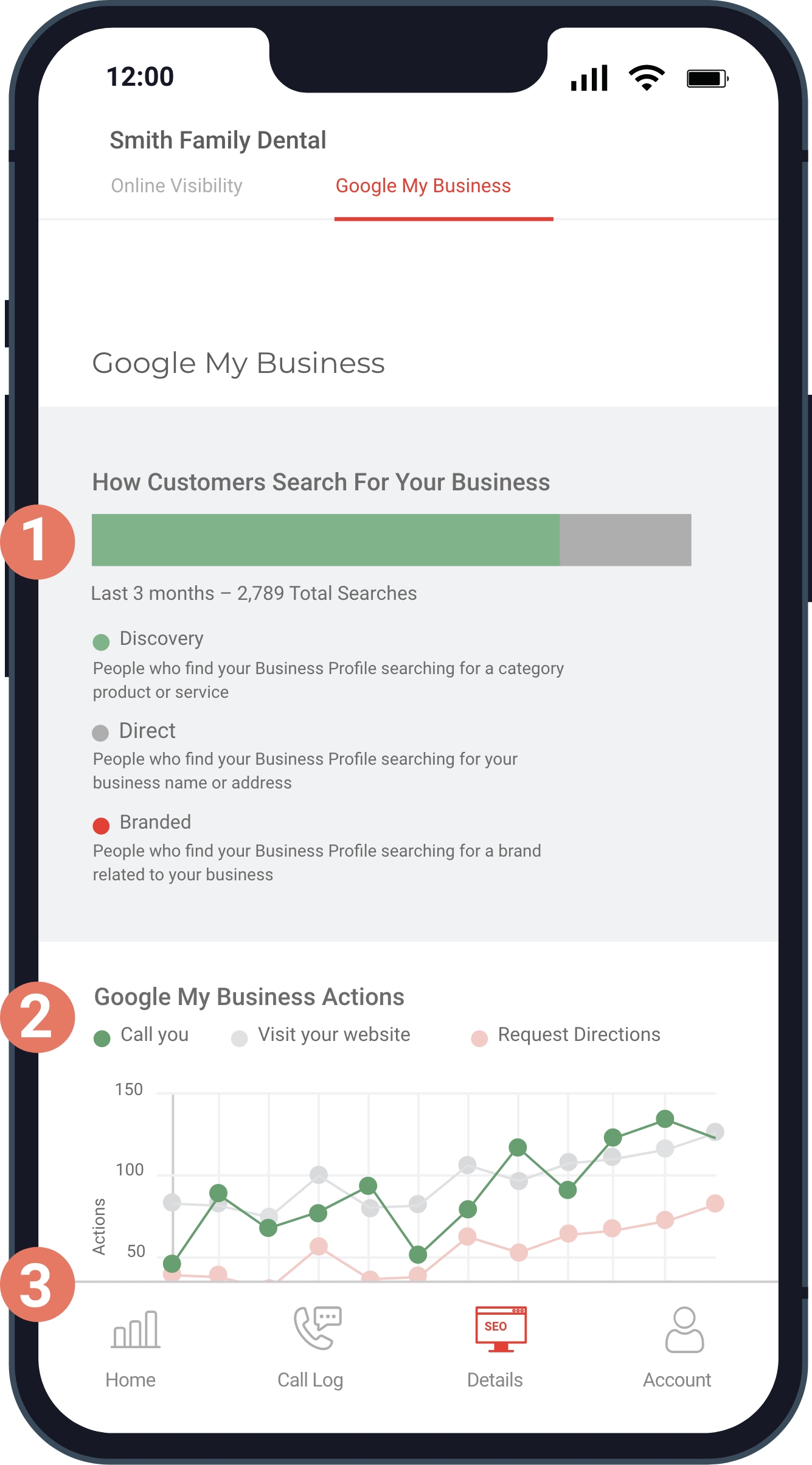 See the type of search that lands someone on your GMB page
The actions people take after landing on your GMB page
Scroll down to see what zip codes generate the most
direction requests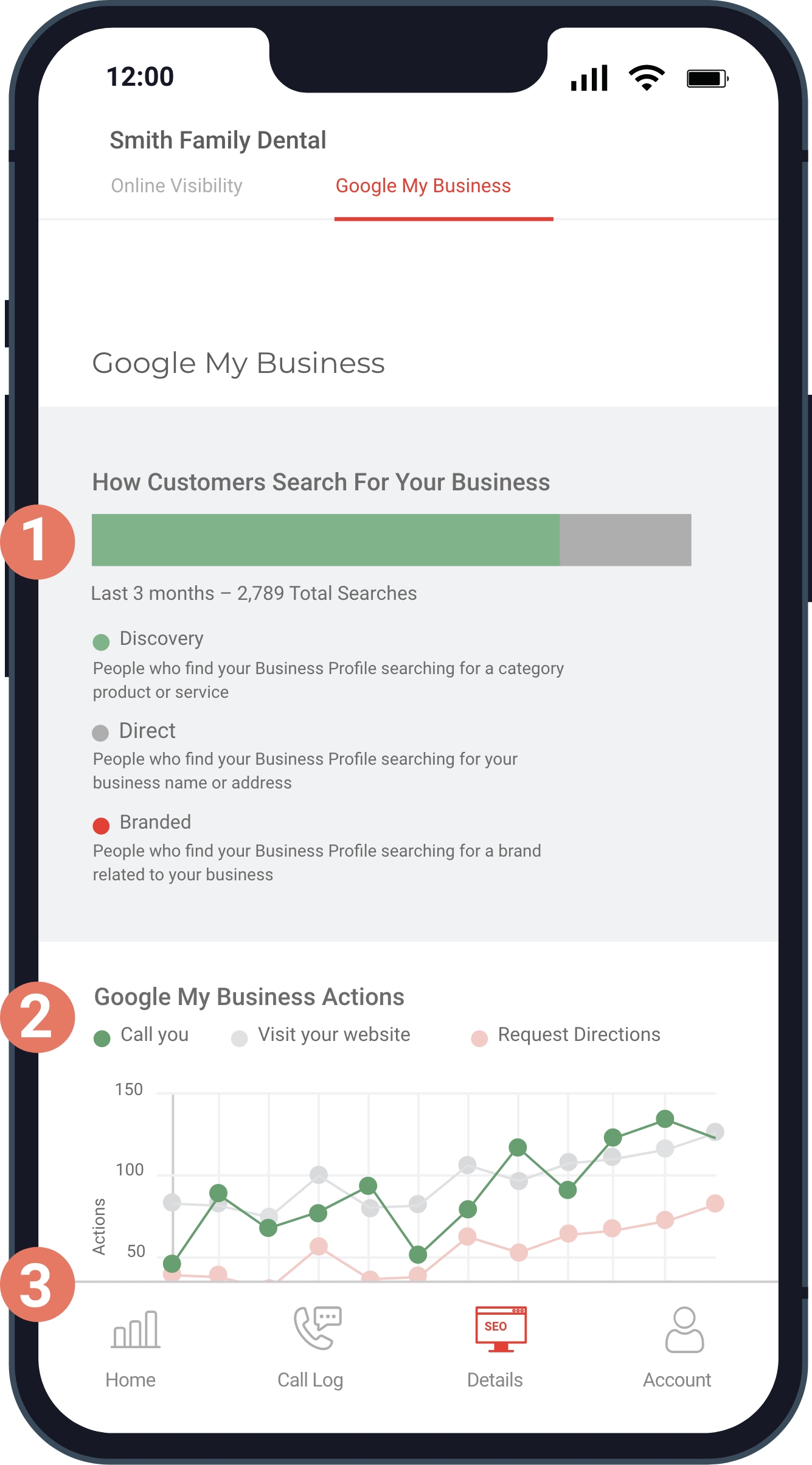 Your Account – Invoices, settings, and contact
See your current invoice as well as past invoices. Change your alert settings and contact ascent.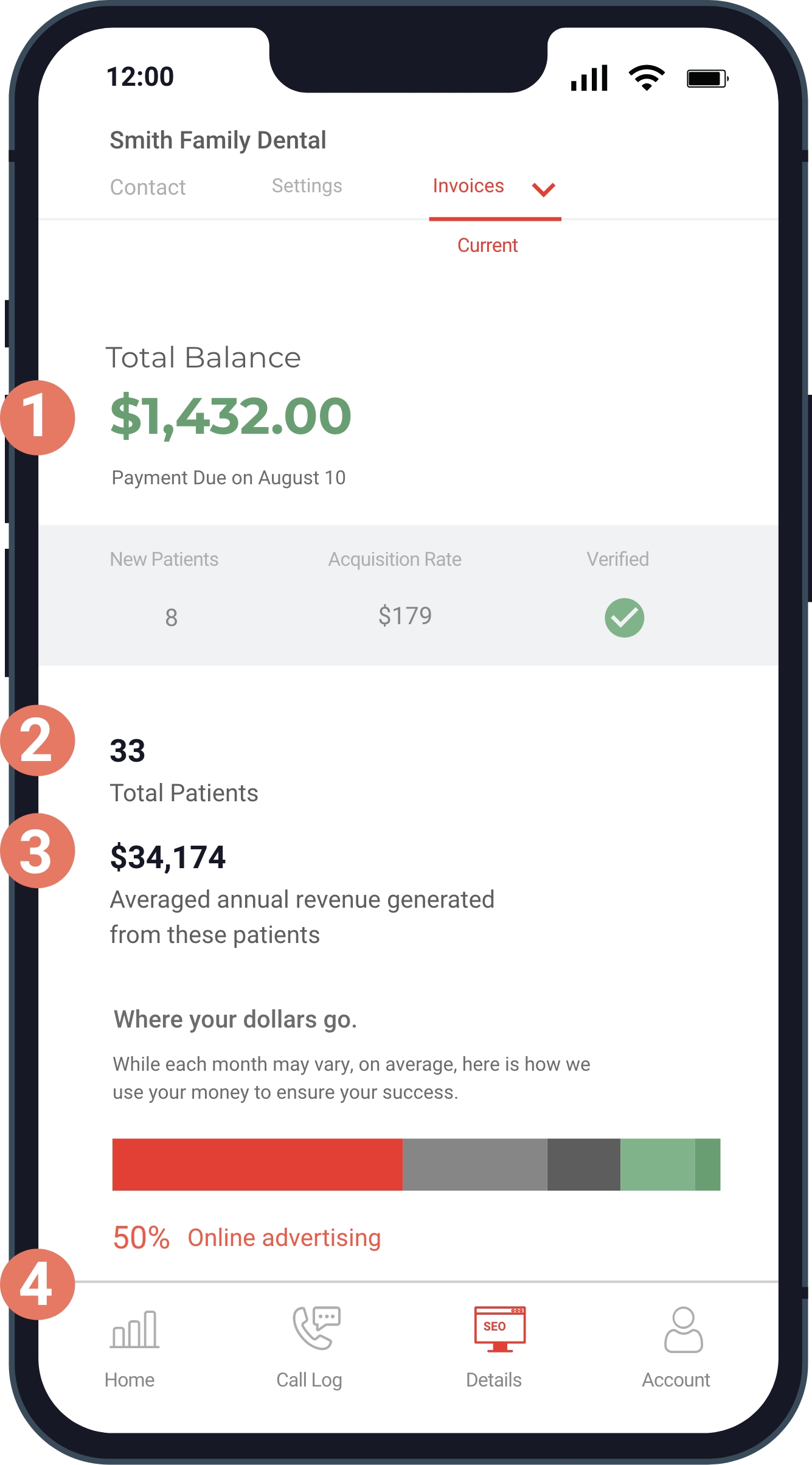 The total balance for the selected time period
Total verified new patents from Ascent's efforts
The average annualized revenue
Scroll down for a breakdown of what your investment covers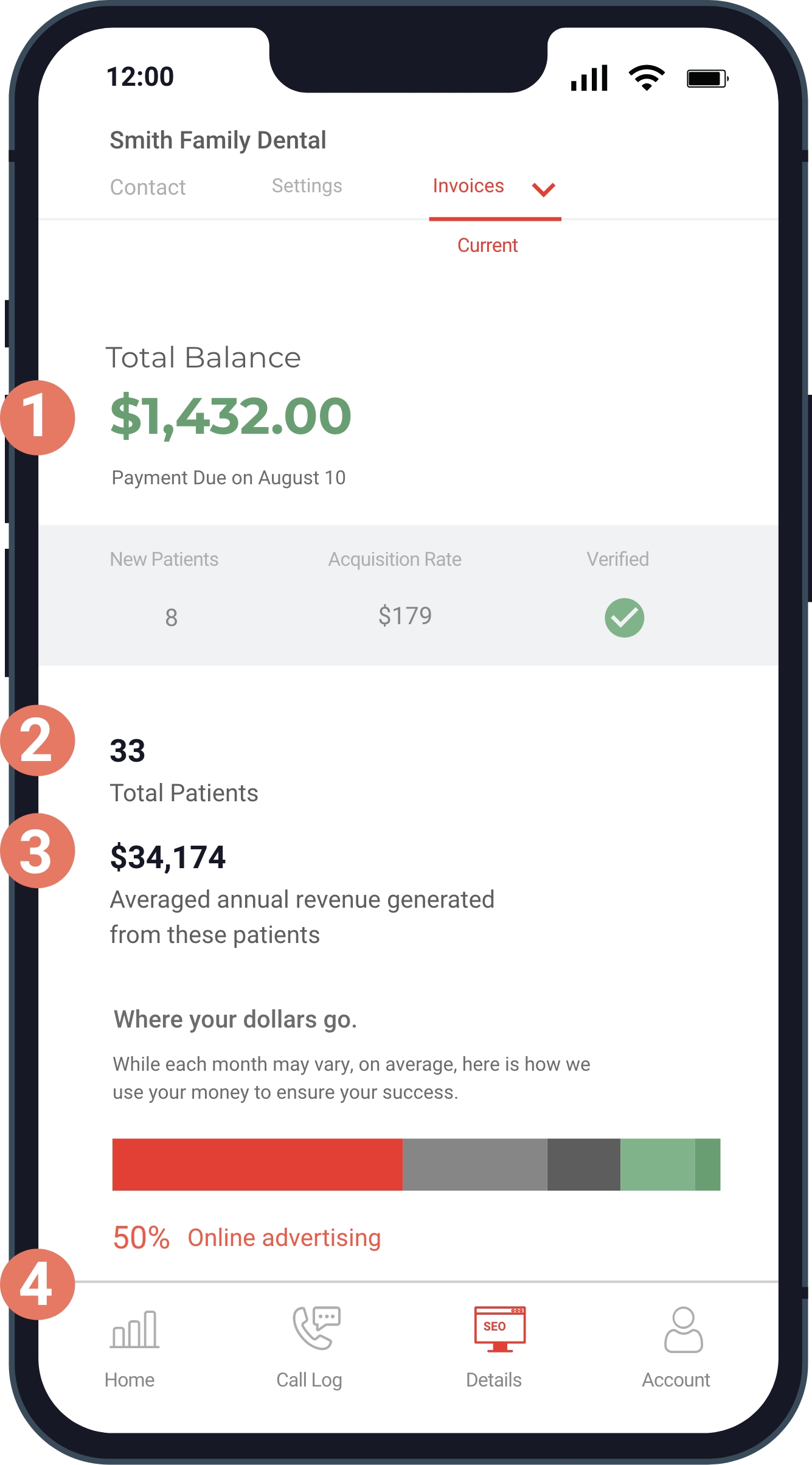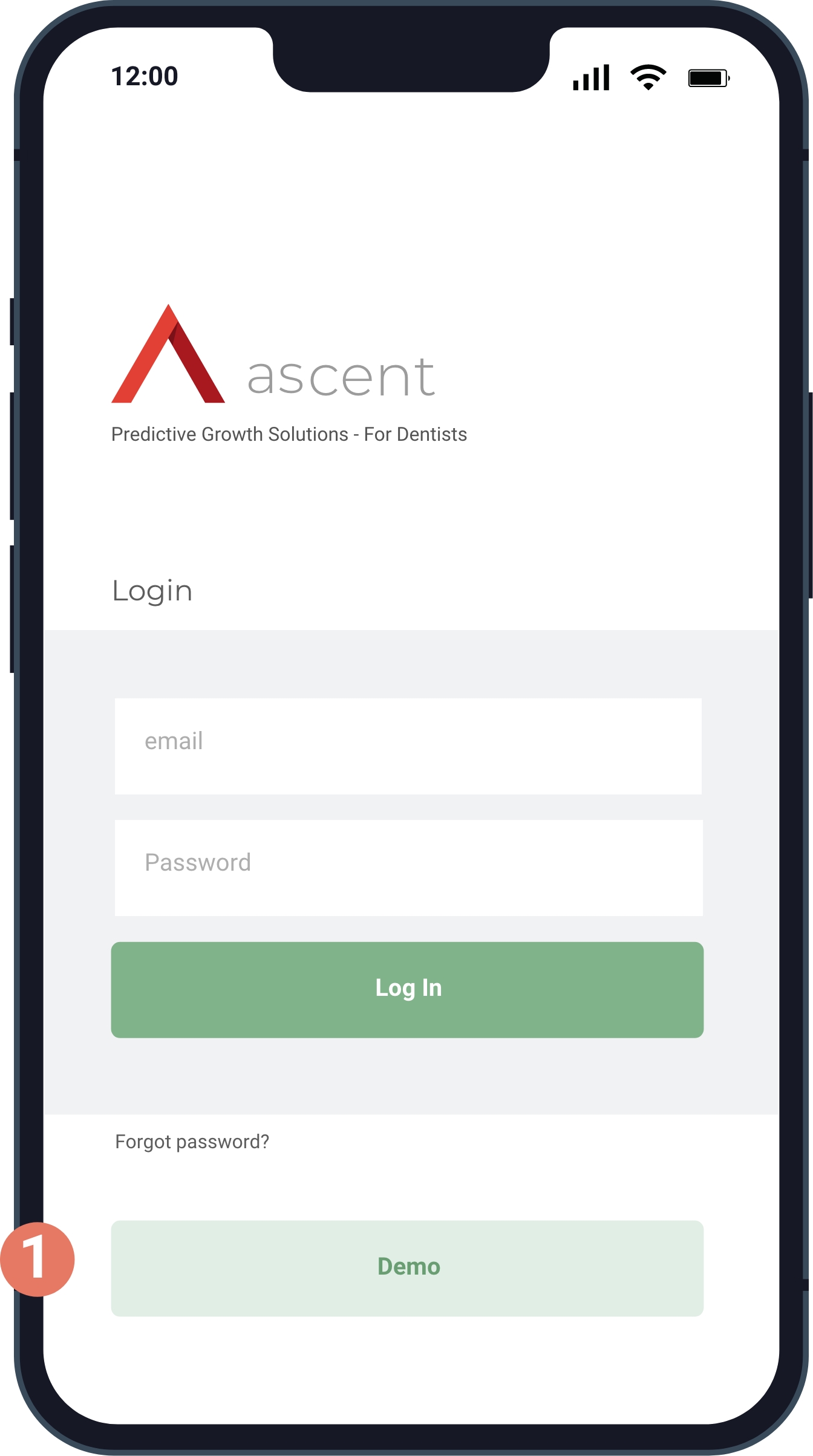 SEE IF YOU QUALIFY
Questions? Schedule a 15 minute demo
to speak with a Marketing Specialist.
SCHEDULE A DEMO